In 2012 I crewed aboard the Soren Larsen, a traditional square rigged sailing ship, for its south pacific season.
Starting our six month journey in Sydney Australia, Our course took us through New Zealand, The cook islands, Samoa, Tonga, Fiji, Vanuatu and New Caledonia before we returned to Sydney. In total, we put over 8900nm under our belt.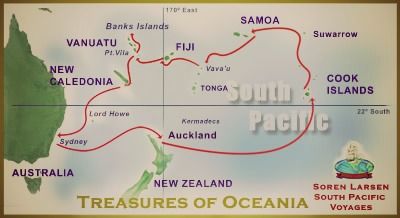 For the first three months I worked in the galley as a cook. However, for the second half of the season I transitioned to the deck. If you would like to know more, select one on the icons below.