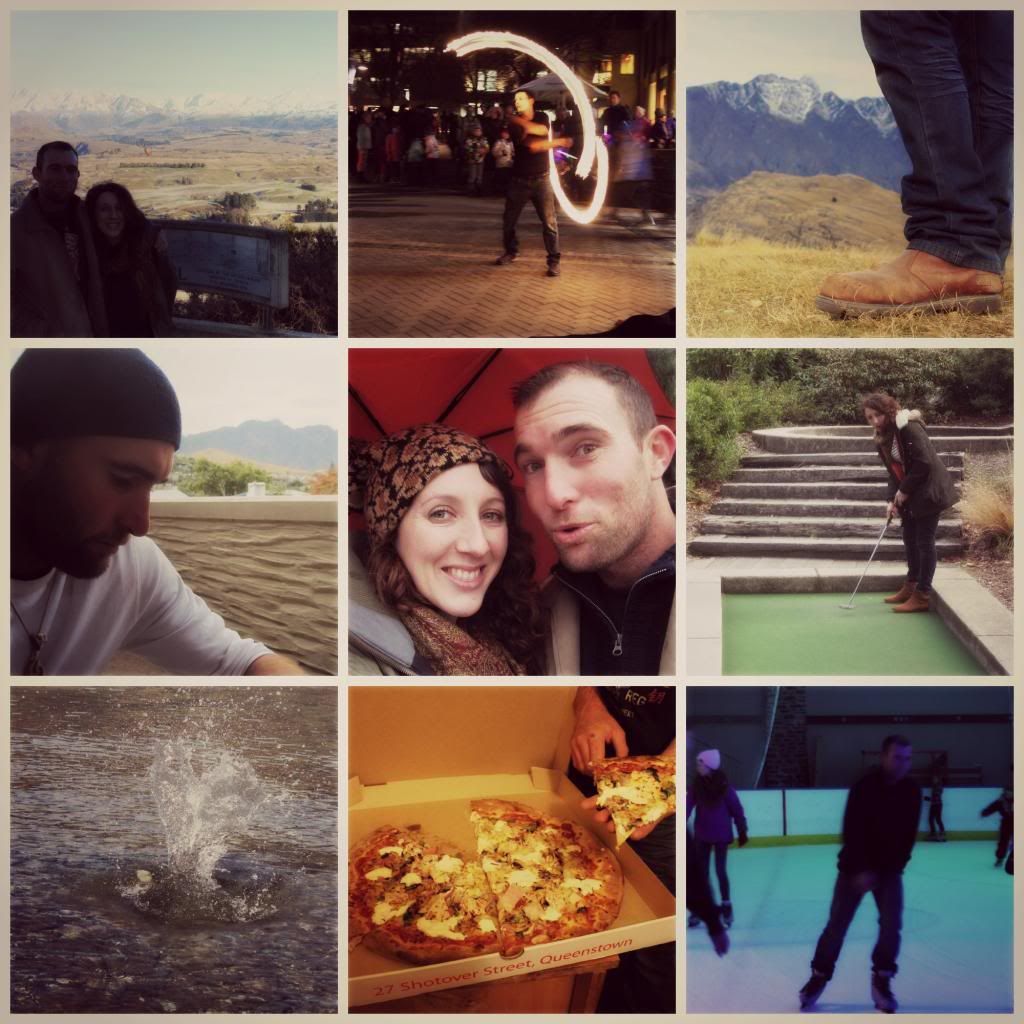 Between the work, the snowboarding and watching Game of thrones, me and my lovely other half have been doing the couples thing in Queenstown. As a backpacker town, Queenstown is definitely single's friendly. If you're open to partying and living life to the full then this town is for you. But what if you don't fit into that category? What if you're in a different place wanting to use your time on one person. That's not to mean that suddenly JUST because you're in a couple you become boring and unsociable, unable to function without each other. We both do things without the other. However, it has meant that I have someone else to think about and when we do get days off together (which is rare) I want to spend it with him.
What if you are in a couple, wanting to spend more time together but also want to experience this town? When we lived in Sydney, our home was always working, so we had to leave. This would mean vacating to beaches and the botanical gardens in summer. But here there are no beaches and its winter. As we aren't exactly rolling in dosh, many of the extreme (and expensive) activities have been out of reach. So far, Zim hasn't been able to come out on the ski fields with me, which I hope to change in the next few weeks! Here are some of my best couple memories since coming to Queenstown.
Miniature Golf: I hadn't played miniature golf in a very long time, like since childhood holidays and I'm in no way a golf enthusiast (sorry but it's really not a sport). But having a game with my Mr was the most fun I'd had in a long time. It didn't even matter that I lost and had to get the next round of mulled cider. Being silly and totally pointless was just what I needed. On this day he also took me to a book fair. If that's not love I don't know what is.
Having some movie time: When we first got to town, 'Movie time' involved watching films hunched over my laptop on a hostel bed. Living. The. Dream.
As our finances improved we upgraded to the Cinema. At one point we became quite the regulars, even getting a loyalty card. As we have both been working physical jobs (Zim's more intense than mine) it felt great to be transported to another world for a few hours. To make the most of our house and its T.V Zim bought a cheap DVD player and now we can rent movies for a reasonable price. When we have weeks between having a day off together, this has been a great thing to do in the evenings together.
Ice skating: One of my favourite days with Zim…. and one of my most terrifying. On a rainy day we took shelter in the ice skating rink. I thought 'this could be fun!' But alas, as soon as my skates touched the ice I was taken over by absolute fear. Memories flooded back of my brother's arm in a cast. I shuffled along and could only bear staying away from the side if I was being towed. I laughed like a mad woman, almost to hysterics. I've done a lot of things in my live and been scared for much of it. And yet, nothing compares to the pure fear I felt on that ice rink. Zim, typically, was gliding about like a natural.
I count this day as a great one for we got to drink great coffee next to an open fire in town and look at road trip brochures. We began discussing our next step in our New Zealand adventure.
Walking. Lots of walking: From the hills and mountains to beside the lake, there is always somewhere scenic to take a stroll. Up to Queens hill remains a favourite. It helps that everywhere has a great view in Queenstown.
Eating: We may not be able to eat out every week in fancy restaurants, but food has been an important factor to us spending time together. Zim is a much better cook than me but we try to take it in turns. As a treat we have eaten montrous pizzas (R.I.P fat badger pizzeria) and as mentioned before, the Sake Bar on Shotover street has been a great find.
They may not be the most exciting, thrill seeking activities in Queenstown, but they have definitely been the funniest and exactly what I've needed. x